At this year's MET Gala, most celebrities found it relatively easy to stick to the theme, owing to its simplicity and directness, Karl Lagerfeld: A Line of Beauty. But the result was extremely boring, drawing a response of apathy from its audience.
The MET Gala is held on the first Monday of May; it is an annual fundraising gala for the Metropolitan Museum of Art's Costume Institute in New York City. Globally known as 'fashion's biggest night', the gala has been chaired by the Editor-in-Chiefs of Vogue since 1972, starting with Diane Vreeland. It has been chaired and co-chaired by her successor Anna Wintour since 1995. While Vreeland is the one who introduced themes and the celebrity guest list for the event, Wintour has much more control over the event, extending to the guest list and even food.
Karl Lagerfeld: A Line of Beauty speaks to the legacy of the controversial designer. The announcement of the theme was as polarizing as its namesake; it received backlash for celebrating a man who has expressed questionable views about plus-sized women, the Me-Too movement and other feminist ideals. On the other hand, Lagerfeld's lasting impact on the fashion world is too big to be disregarded, and at times it is important to separate the art from the artist.
The red carpet itself, which is usually decorated in a way that echoes the theme, was a miss this year. The Baroque background made sense, seeing as Lagerfeld often referenced the era in his designs. But it clashed terribly with the chandeliers and barricade. The carpet itself had nothing to do with Karl Lagerfeld, stripes of red and blue that resembled toothpaste more than anything. An all-black carpet or one with black and white accents would have been more appropriate.
The Chanel Brides
Many celebrities paid homage to Lagerfeld's iconic Chanel Brides, including co-chairs Penélope Cruz and Dua Lipa. Dua Lipa wore Claudia Schiffer's iconic dress, but it fell a little flat considering the lack of accessories. Alia Bhatt wore Prabal Gaurang's interpretation of the same dress as an all-pearl number, which fared slightly better. Rihanna showed up late in a custom-Valentino hooded floral appliqué bridal gown, personifying the term fashionably-late.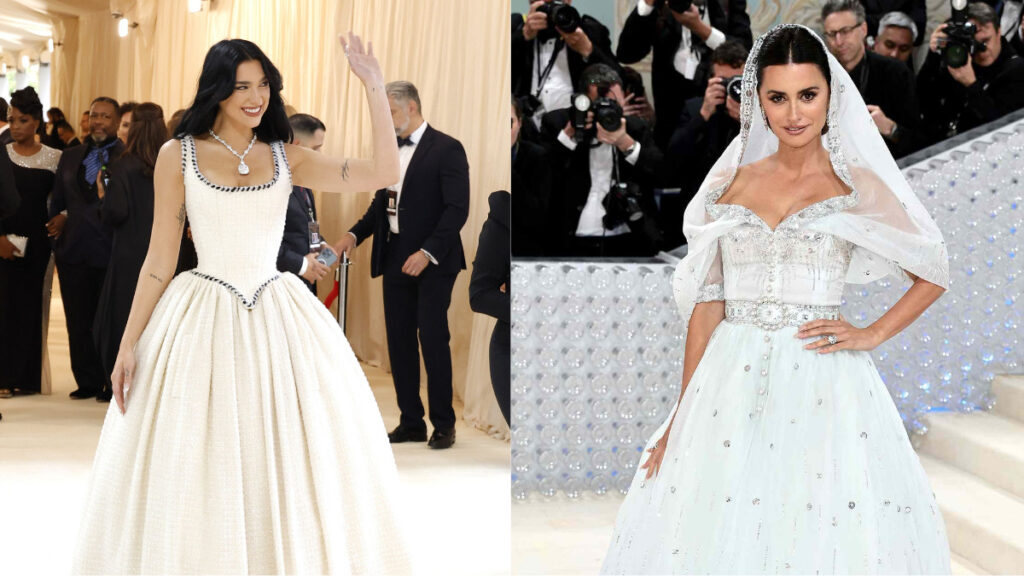 One look that stood out was Anne Hathaway's custom Versace, which perfectly encapsulated the ethos of both Lagerfeld and Versace through the intelligent use of Chanel tweed paired with trademark Versace safety-pins.
Thom Browne
Thom Browne dressed a stellar nine guests in his meticulous tailoring that is instantly recognisable of the designer's contemporary tailoring and Lagerfeld's own style. Jenna Ortega continued to embody Wednesday Addams, but the best three were Sora Choi, Janelle Monae (who took it a step further by undressing and revealing her vintage Chanel swimsuit), and Teyana Tailor.
Menswear
Usually, men do not seek to experiment with their clothing and show up in boring suits, but this wasn't the case at this year's MET. Pedro Pascal's head-to-toe black-and-red Valentino was a head-turner, while Bad Bunny arrived wrapped in flowers in a custom all-white Jacquemus ensemble. A$AP Rocky's tartan skirt paid homage to Lagerfeld's use of the fabric in 2014.
The Archival Chanel
Celebrities like Margot Robbie, Naomi Campbell, and Jennie of BlackPink were seen in archival Chanel. Gisele Bunchen wore a gown she had been pictured in by Karl Lagerfeld himself for Harper's Bazaar Korea, while Nicole Kidman wore the gown she had been shot in for her first Chanel No. 5 commercial.
Choupette
Choupette was Karl Lagerfeld's cat and had been with the designer from 2011 until his death, after which the two became inseparable. She was often an inspiration for Lagerfeld's work, so it was obvious that the cat would inspire red carpet appearances as well.
The more direct iterations were seen on Jared Leto and Doja Cat. Leto kept in tune with his usual idiosyncrasies by dressing up like a human-sized version of Choupette. Doja Cat, perhaps also paying tribute to her moniker, donned prosthetics and a hooded Oscar De La Renta gown for her first MET gala appearance.
Lil Nas X's pearl-encrusted bodysuit also sported whiskers, although their meaning, alongside the rest of his ensemble, remain largely unknown and baffling.
Chloe Finman and Janelle Monae's handbags also alluded to the famed feline.
Lagerfeld Lookalikes
Lagerfeld's own style, a well-tailored black suit, with big black sunglasses and his long hair pulled into a ponytail, is almost as iconic as the designer himself. It was then no surprise that the red carpet was riddled with many Lagerfeld impersonators.
The best of these was Cardi B's second look of the night (she was spotted in three absolutely stunning outfits). She wore a Lagerfeld-inspired black-and-white gown by Chen Peng. The studded bodice flowed into a billowing skirt that had Lagerfeld's favourite Camellias embroidered on it. The ensemble was finished with a black tie, leather gloves, and Lagerfeld's signature powder-white beehive.
Other lookalikes included Stephanie Hsu, Simu Liu, Cara Delevingne, and Ke Huy Quan.
Criticisms
The theme's directness resulted in a predictable array of black and white gowns and suit and ties. Most who wore archival looks by Karl lacked the depth required to create a memorable outfit. Pearls could be seen all over the red carpet, but Karl's legacy is better associated with chunky chains, colourful stones, and costume jewellery. Most gowns lacked the appropriate accessorizing, especially considering how in his initial years at Chanel, Lagerfeld drove costumers away with his love for over-accessorizing.
Some believe that in light of the many great fashion creatives that the world has lost since the dawn of the new decade, the theme could have been a celebration of all their lives; but maybe Karl Lagerfeld's legacy is one that demands its own MET gala. Hopefully this remembrance of the icon will inspire a newer generation of designers.